November 13, 2014 | Recipes & Pairings | Sextant Wines
Duck Breast with Pomegranate-Citrus Glaze
Pair With: 2012 Sextant Pinot Noir, Santa Lucia Highlands
Serves 2 with leftovers. Glaze adapted from Spice Lines
Ingredients:
2 duck breasts, about 12 to 16 ounces total
(split into two pieces if sold still joined by the skin, as pictured)
Kosher salt and freshly ground black pepper
2 tablespoons pomegranate molasses (or pomegranate syrup)
2 tablespoons white vermouth
1 large orange, juiced (about 1/4 cup)
1 tablespoon honey
1 cinnamon stick
4 whole cloves
1/8 teaspoon cardamom
Directions:
Heat the oven to 400°F. Place the duck breasts fat side up on a cutting board and use a small sharp knife to crosshatch them, cutting just through the layer of fat but not into the meat itself. Sprinkle thoroughly with salt and pepper.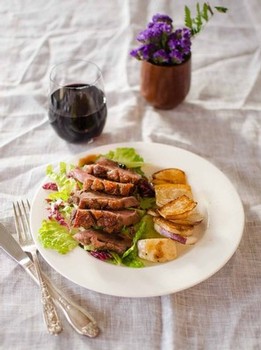 Place them fat side down in a large skillet. Turn the heat on to low. Cook the duck breasts over very low heat for 10 to 15 minutes, letting the fat render out. The fat shouldn't spit or flare up; the heat should be low as possible. The goal here is to avoid cooking the duck breasts too much, and just to render off the fat.
While the fat is rendering, mix the pomegranate molasses, vermouth, orange juice, honey, cinnamon, cloves, and cardamom in a small saucepan and bring to a simmer. Simmer for 5 minutes or until it reaches a temperature of 210°F. Turn off the heat and set aside.
When the fat on the duck breasts looks cooked through and crisp, turn off the heat and remove the duck breasts. Carefully pour off all the liquid fat into a bowl, cover and refrigerate.
Return the duck breasts to the pan, fat side up now, and brush lightly with the pomegranate syrup. Put the pan in the oven for 5 to 7 minutes or until the internal temperature reaches your goal. If you prefer to cook to USDA standards, then cook to 160°F.
Remove the duck breasts from the oven, place on a cutting board, and tent with foil to rest for a few minutes. Brush again with the glaze (rewarm the glaze if necessary) and slice very thinly. Serve immediately.
Comments
Commenting has been turned off.