2014 Night Watch 1.5L
Blending Zinfandel and Petite Sirah in various parts of California has become a regional calling card. After considering the fine points of the 2014 Night Watch, it all makes sense. A lavender and white pepper nose are a prelude to the cherry and blueberry density. Dried cranberries and dark plums add layers to a structured body. The tannins and acidity are evident but mellow resulting in a rounded and lasting finish. Paso Robles provenance and an emerging tradition make for a resounding and trailblazing blend. Sextant Wines has set a delicious benchmark.
Sorry! This item is sold out.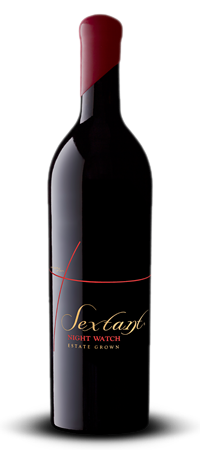 Winemaker Notes
100% Estate Grown red blend of some of Paso Robles finest varietals. Comprised of 46 % Zinfandel/Primitivo, 36% Petite Sirah, and 18 % Syrah this wine is barrel aged for 22 months to allow excellent integration and expression of both the oak and fruit. Nightwatch is aged in 30% new American oak and 25% new Hungarian oak.
Aging
Enjoy now or cellar through 2022
Fermentation
100% Malolactic Fermentation