Ingredients
2 bottles chilled of your favorite Sextant red wine
1 cup brandy
1 cup orange juice
1/4 cup superfine granulated sugar
2 oranges, cut into thin rounds
2 lemons, cut into thin rounds
3 limes, cut into thin rounds
2 apples, cored and cut into 1/2-inch chunks
2 cups cold club soda
Directions
In a large bowl, combine the wine, brandy, orange juice, and sugar and stir until the sugar dissolves. Add the orange, lemon, and lime slices, the apples and refrigerate until well chilled, about 1 hour. Remove from the refrigerator and add the soda. Serve in glasses over ice.
Pairs with Sextant 2013 Grenache Rose
Ingredients
1 whole salmon, about 6 pounds, 2 fillets
2 cups LOW SALT soy sauce
½ cup rice vinegar
½ cup freshly squeezed lemon juice (4 lemons)
¼ cup oyster sauce
1 TBLSP. Fish sauce
2 TBLSP. Toasted sesame oil
1 TBLSP. Chili paste
1 cup slices scallions (6 scallions, about)
¼ cup finely minced garlic
¼ cup finely minced fresh ginger
2 cups Panko (Japanese bread crumbs)
Directions
Line 2 large jellyroll pans with aluminum foil. Place the salmon in each pan skin side down.
In a mixing bowl, combine the soy sauce, rice vinegar, lemon juice, oyster sauce, fish sauce, sesame oil, chili paste, scallions, garlic and ginger. Pour one-third of the soy sauce mixture over the salmon fillet. Sprinkle the panko evenly over the fillet. Pour the rest of the soy sauce mixture evenly over the panko. Be sure to soak the panko completely and if any run off, spoon them back onto the salmon. Set aside for 15 minutes leaving all the sauce in the pan.
Meanwhile, preheat the oven to 500 degrees. Roast the salmon for 18 to 20 minutes, or for about 12 minutes per inch at the thickest part of the salmon. The internal temperature should be 120 degrees on a meat thermometer when it is done. Remove from the oven, wrap tightly with aluminum foil, and allow to rest for 15 minutes. Serve hot or at room temperature. Serves about 18 to 20 depending on portion size.
Pair With: 2012 Sextant Pinot Noir, Santa Lucia Highlands
Serves 2 with leftovers. Glaze adapted from Spice Lines
Ingredients:
2 duck breasts, about 12 to 16 ounces total
(split into two pieces if sold still joined by the skin, as pictured)
Kosher salt and freshly ground black pepper
2 tablespoons pomegranate molasses (or pomegranate syrup)
2 tablespoons white vermouth
1 large orange, juiced (about 1/4 cup)
1 tablespoon honey
1 cinnamon stick
4 whole cloves
1/8 teaspoon cardamom
Directions:
Heat the oven to 400°F. Place the duck breasts fat side up on a cutting board and use a small sharp knife to crosshatch them, cutting just through the layer of fat but not into the meat itself. Sprinkle thoroughly with salt and pepper.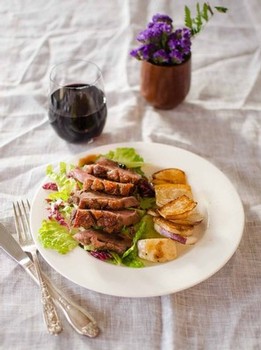 Place them fat side down in a large skillet. Turn the heat on to low. Cook the duck breasts over very low heat for 10 to 15 minutes, letting the fat render out. The fat shouldn't spit or flare up; the heat should be low as possible. The goal here is to avoid cooking the duck breasts too much, and just to render off the fat.
While the fat is rendering, mix the pomegranate molasses, vermouth, orange juice, honey, cinnamon, cloves, and cardamom in a small saucepan and bring to a simmer. Simmer for 5 minutes or until it reaches a temperature of 210°F. Turn off the heat and set aside.
When the fat on the duck breasts looks cooked through and crisp, turn off the heat and remove the duck breasts. Carefully pour off all the liquid fat into a bowl, cover and refrigerate.
Return the duck breasts to the pan, fat side up now, and brush lightly with the pomegranate syrup. Put the pan in the oven for 5 to 7 minutes or until the internal temperature reaches your goal. If you prefer to cook to USDA standards, then cook to 160°F.
Remove the duck breasts from the oven, place on a cutting board, and tent with foil to rest for a few minutes. Brush again with the glaze (rewarm the glaze if necessary) and slice very thinly. Serve immediately.
Paired with 2012 Sextant Marselan: Cabernet x Grenache
For Marinade:
1/2 cup jumbo scallions, diced

8 to 10 cloves garlic, minced
4 shishito peppers, diced
1 tablespoon, plus 1 teaspoon salt separated
Juice of 1 orange
Juice of 1 lemon
Juice of 1 lime
1/3 cup cilantro, chopped
1 tablespoon smoked paprika
1 tablespoon chile ancho powder
1 tablespoon cumin
1 tablespoon oregano
1 tablespoon pepper
10 ounces Mexican beer (optional)

You Will Also Need:
1 1/2 pound flank steak, filleted in half, so it's thin
1 cup radishes, diced
1 cup pickled red onions
1/3 cup cilantro, chopped
1/2 cup of your favorite salsa
1 lime, sliced into wedges
12 warm corn tortillas
Directions
In a mortar or molcajete, add the garlic, onions, and shishito peppers. Add 1 teaspoon of salt and grind it with the pestle until it becomes like a coarse-looking paste. If you don't have a mortar or molcajete, you could roughly chop in an electric mini chopper as well. Transfer the mixture to a large bowl.

Add the remaining ingredients, minus the steak. Stir well to combine and taste for salt. Transfer the steak to a heavy plastic storage bag. Pour the marinade over the beef, seal bag and marinate for at least 6 hours.

When ready to cook, remove the steak from the refrigerator about 30 to 40 minutes before cooking. Drain off all the marinade and transfer steak to a plate.

Preheat heat your grill to medium/high heat while the steaks comes to room temperature. Cook the steak on the direct heat for 5 minutes per side. Move to cooler side of the grill and continue cooking for another 5 to 6 minutes. Remove beef from the grill and let it rest for 5 to 6 minutes before slicing. Always slice against the grain for a tender cut. It's best to keep a meat thermometer on hand to reach the desired temperature. Steak doneness: rare 130 to 135 degrees F., medium rare 140 degrees, medium 155 degrees, well done 165 degrees.
Pairs with 2012 Santa Lucia Highlands Pinot Noir
Ingredients
2 large sweet potatoes (about 1 1/2 lb.)
3 medium sweet potatoes
4 large parsnips
1 large sweet Maui onion
1 large fennel bulb
6 medium purple beets
2 cloves of garlic
5 tablespoons extra virgin olive oil, divided
1 3/4 teaspoons salt, divided
1 teaspoon pepper, divided
1/2 cup bottled olive oil-and-vinegar dressing
1 tablespoon chopped fresh parsley
1 tablespoon horseradish (or wasabi for Asian flare)
1 teaspoon Dijon mustard
Fresh arugula
(Add roasted Chicken for protein)
Directions
Preheat oven to 400°. Peel sweet potatoes, and cut into 3/4-inch cubes. Peel parsnips, and cut into 1/2-inch slices. Slice Maui onion into thick chunks, Peel Fennel, and slice into desired strips. Peel beets, and cut into 1/2-inch-thick wedges.
Toss sweet potatoes, parsnips, onion, fennel and mince garlic with 4 Tbsp. olive oil in a large bowl; Sprinkle with 1 1/4 tsp. salt and 1/2 tsp. pepper. Place in a single layer in a lightly greased 15- x 10-inch jelly-roll pan.
Toss beets with remaining 1 Tbsp. olive oil; arrange beets in a single layer on a separate aluminum foil-lined 15- x 10-inch jelly-roll pan. Sprinkle with remaining 1/2 tsp. salt and 1/2 tsp. pepper.
Bake at 400° for 40 to 45 minutes or until tender with a slight caramelized crisp. Let slightly cool (about 8 minutes).
Meanwhile, whisk together dressing and next 3 ingredients. Place vegetables in a large bowl, and drizzle with desired amount of dressing; toss gently to coat. Serve at room temperature or chilled over arugula with any remaining dressing. Cheers!
Pairs with 2012 Tannat
Ingredients
Cranberry Citrus Chutney
12 ounces fresh cranberries
1 1/2 cups Extra Fine Granulated Sugar
1/2 cup red wine
1 orange, zested and quartered
1 vanilla bean, split and seeds scraped
Salt/pepper
Directions
Into a heavy bottom sauce pan add: cranberries, sugar, wine, orange zest, vanilla bean and seeds. Season with salt and pepper. Add 2 orange quarters. Cook over medium-low heat until cranberries begin to soften and lose their shape and sugar has dissolved. Approximately 5 minutes. Remove from heat and allow to cool before serving. Garnish with additional orange zest if desired.
Lamb Chops
4 6-ounce double lamb chop (use a chop from loin end of rack)

Kosher salt, for seasoning

2 tablespoons maple chili glaze

2 teaspoons maple chili glaze (reserve glaze after broiling)

2 cups mizuna lettuce
Directions
Season the lamb chops with kosher salt and chili glaze prior to placing under the broiler. Broil the lamb chops to the desired temperature. Toss mizuna with 2 teaspoons of Cranberry Citrus Chutney and place on plates. Plate the two lamb chops over the mizuna; serve the first lamb chop with 1 tablespoon of the cranberry citrus chutney as garnish.
Chef Tip: Cut lamb chops from the loin end of the rack - lamb chops will cook quickly (3-4 minutes per side for medium rare)

Spicy Thai Crab And Sweet Corn Fritters
6 servings
Ingredients
3 large eggs, lightly beaten
1 T fish sauce or soy sauce
2 tsp chili garlic sauce
1 tsp fresh grated ginger
6 oz lump crabmeat, drained, flaked and picked over for cartilage
1 ½ cups frozen (thawed) or canned sweet corn kernels
½ cup thinly sliced green onions
3 T fresh chopped cilantro or Thai basil
½ cup all-purpose flour
Canola oil for frying
Thai Chili Roasted Garlic Dipping Sauce or favorite dipping sauce
Preperation
In medium bowl combine eggs, fish or soy sauce, chili garlic sauce and ginger. Stir in crabmeat, corn, green onions and cilantro. Add flour; stir until ingredients are combined.
In 12-inch skillet over medium-high heat, heat ½-inch canola oil until hot. Carefully spoon crab mixture by rounded tablespoonfuls into hot oil, flattening slightly with spoon. Cook fritters about 2 minutes on each side until golden brown and crisp. Remove from skillet and place on paper towels to drain. Repeat with remaining batter.
Serve immediately with dipping sauce.
Paired with 2013 Sextant Grenache Blanc
Ingredients
Creamy Stonefruit Vinaigrette:
1 Tsp. Dijon mustard
1 Tsp. Freshly grated orange zest
2 Tbsp. Honey
2 Tbsp. Red wine vinegar
¼ cup Peach or Apricot juice or nectar
½ cup Vegetable oil
Salt and pepper to taste
Directions
In a food processor combine all ingredients except the oil. Pour oil into the pusher tub and combine until all the oil is gone. Dressing should be made a day ahead to have maximum flavor. Makes 1 cup and keeps in fridge for about 3 weeks.
Ingredients
Salad
8 cups organic arugula (or a mix with heavy arugula) washed and very dry
4 to 8 organic peaches, washed, halved and quartered (you may chose to grill peaches)
1/2 cup sweet red onion, finely diced
1 organic cucumber or 3/4 English cucumber, thinly sliced
4 ounces fresh goat cheese, cut into chunks
1/2 cup toasted sliced almonds
Directions
Wash fruits and vegetables and dry. Prepare peaches, red onion, and cucumber. Set aside. Put arugula in a large bowl and toss sparingly with vinaigrette. Brush peaches with vinaigrette so they will not turn brown.
Place about 1 heaping cup of tossed arugula in the center of a salad plate. Scatter a small amount of red onion, cucumber slices, and then peaches. Dot with goat cheese and then almonds. Drizzle with about a Tablespoon of dressing. Serve immediately. You may also platter salad attractively and let guests help themselves. Serves 8. You will have vinaigrette left over. It should be stored in fridge and will keep fresh for about 3 weeks.
Paired with 2012 Central Coast Chardonnay
Ingredients
1 favorite pizza dough ball
2 sweet yellow onions, thinly sliced
2 TBLSP. olive oil
1 TBLSP. butter
1/3 cup favorite balsamic vinegar
2 TBLSP. C & H light brown sugar
2 ripe organic pears, washed, dried and thinly sliced
8 ounces Point Reyes blue cheese, crumbled
2 cups organic arugula
Directions
Let pizza dough sit at room temperature for at least an hour. Slice onions and then put olive oil and butter in a large fry pan and heat until melted. Stir in onions over medium heat and sauté over low heat for about 25 minutes. When onions are tender and balsamic and brown sugar, stirring over low heat until blended. Set aside. These may be done ahead, stored in fridge or frozen!

Preheat oven to 400 degrees. On a lightly floured surface roll dough into a rectangle, making sure it is not a perfect rectangle, of course. Line a baking sheet with foil and scatter a bit of cornmeal on it. Transfer flatbread dough onto your prepared sheet and begin by adding your caramelized onions, sliced pears, and gorgonzola on top of flatbread dough. Put in oven and bake for about 20 minutes or until cheese is bubbly and it looks incredible. Place arugula on top of flatbread, gently pressing it into the flatbread. Remove, cut into pieces and serve. Serves 6 to 8.
California Goat Cheese, Wild Mushroom, Fresh Thyme Flatbread
Ingredients
1 favorite pizza dough
12 ounces favorite combination of mushrooms, thinly sliced
1 sweet yellow onion, finely minced
1 TBLSP. olive oil
1 TBLSP. butter
2 TBLSP. fresh thyme
10 ounces of California Goat cheese, crumbled
Directions
In a large fry pan add oil and butter and heat to medium. Add sliced mushrooms and onion and sauté for about 5 minutes and then add fresh thyme leaves. Continue to cook until mushrooms are tender. Season to taste with salt and pepper. Set aside to cool.

Prepare dough the same way as the other flatbread, laying it on a prepared baking sheet with cornmeal scattered on top. Scatter cooked mushrooms and onion on top of flatbread and then dot with crumbled goat cheese. Bake for about 18 minutes and remove from oven when flatbread looks golden. Cut into pieces. Serves 6 to 8. *You may also add some lemon zest on top of cheese before baking, if you like.
Dear Wine Club Members,
With fall upon us once more, we are eager to welcome the fruits of harvest. Here at Sextant, we are excited to say that September also means it's time for the second Wine Club shipment of the year! Your fall shipment will include four bottles for our Captain level members, and three for our First Mates. In this shipment, we've packed newly bottled vintages, exclusively available to our valued members.
Payment Card Update:
Please ensure that your payment card information, and your billing and shipping addresses are up-to-date by logging into your account on our website. In order to receive your club shipment in a timely fashion, please verify this information by Monday, August 19th.
Important Dates:
Fall Pick Up Party

∙ Sunday, September 1st ∙ Sextant Estate Winery ∙ Paso Robles, CA ∙ 11am-4pm ∙ RSVP by August 26th ∙ Click Here For Details

Billing Date

- August 21st

Shipping Date

- Shipping dates for CA, NV and AZ is September 3rd. All remaining states will ship September 9th (weather permitting in all states)

30/30

- Ends at Midnight on September 30th

Pick-Up Period

- September 1st - September 30th
After September 30th, all remaining shipments will be sent to the shipping address on file during the week of October 7th. The payment card you've provided will be charged an applicable shipping cost. If you wish for your shipment to be held and combined with your November shipment, a $5 fee for storage will be added and billed appropriately.
30/30 Discount Period
Don't miss out on an incredible opportunity to purchase all of the wines in the fall shipment at 30% off the standard retail price. This special offer is available to you for just 30 days, between September 1st and September 30th. We encourage you to take advantage of this remarkable rate while time permits! Remember, the holidays are just around the corner! Please contact Elyse Goodwin or Megan Holst for ordering at 805-542-0133 or concierge@sextantwines.com.
I look forward to seeing you all very soon.
Until then, happy harvest!
Sincerely,
Elyse Goodwin